As far as Philly-area food fests go, the next week is a doozy.
There's the Smoke 'Em If Yous Got 'Em barbecue at Yard's on Sunday, the 2015 Mushroom Festival in Kennett Square, and the annual every-chef-serving-everything for the good of the Feastival benefitting the Fringe next Thursday.
Yet, when the South Philly Sausage Fest debuts on Saturday, Sept. 12 – West Passyunk and Snyder avenues, from Broad to 19th streets – this party will be more than just brats, kielbasa, casings and links, as well as craft beers from Taproom on 19th, Chaat and Chai, Grubhouse, Philly Pretzel Factory, Saint Benjamin Brewing, and Philadelphia Brewing Co.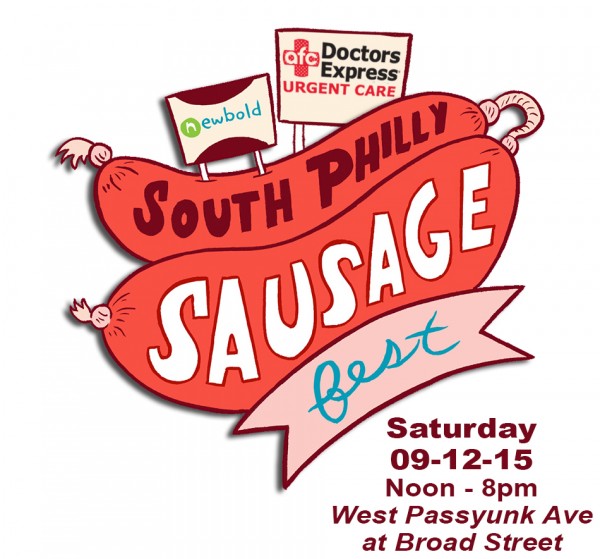 The up-n-coming street fest will be for the "Support Street Cleaning Program" sponsored by AFC Doctors Express Urgent Care and the Newbold Community Development Corporation (CDC), a program that, in partnership with Horizon House, Inc., provides services to adults with developmental disabilities, drug and alcohol addictions, and homelessness issues.
"Newbold CDC has spent the past five years greening – through landscaping several intersections – and cleaning two commercial corridors, a war memorial and school grounds, and has partnered with Horizon House, Inc.," says Newbold CDC boss Tim Lidiak.
"After five years of improving public spaces," Lidiak adds, "we were looking for a way to generate annual revenue to fund [our] corridor cleaning program. We thought up the idea of a community festival, and we were looking for a theme that would celebrate one of the culinary traditions of South Philly — and so we came up with sausage and its ethnic diversity here."
Nothing wrong with have some wieners for a job well done.
But what about the sausage?
South Philadelphia's Taproom on 19th will debut its new executive chef this weekend – Chris Speero – who's coming up strong with a "Bangers and Mash!" sandwich featuring pork sausage, mash potatoes, onion marmalade, and navy beans.
Of this concoction, owner Michael Strauss says, "We assumed most people would be doing South Philly classics – peppers and onion or Parmesan – so we decided to do something completely different and out of the box," he says. "We want people to remember us and play with a unique new sandwich combination."
As for the rest of the wiener-heads' cooking, there's:
All of this will be paired with Conshohocken Brewing Co.'s Puddlers Row Extra Special Bitter, Philadelphia Brewing Co.'s Kenzo'lantern, Newbold and Point Breeze Brewing's Spiced IPA, Point Breeze Pale Ale, Saint Benjamin Brewing Company's Foul Weather Jack, Sly Fox Brewing's Oktoberfest Dad Vail Pale Ale and Weyerbacher's Imperial Pumpkin, Tarte Nouveau – just in time for autumn.
It's one hell of a time to be alive.