Photograph courtesy of Distrito via Facebook.
Seven years in restaurant years is an eternity, especially without redecorating or overhauling a menu. Then again, things were going nicely at Jose Garces' Distrito, one of his first restaurants in Philly – and his only project in University City – where modernist Mexican nibbles and string margaritas rule the colorful cantina roost. But in August, Garces and Distrito Chef Maria Schmidt reimagined the menu for the 39th and Chestnut hotspot.
On the first floor of the two-story restaurant — now dubbed Distrito Taqueria — the menu is influenced by taco shops and Mexico City street food: goat barbacoa, tofu chorizo, tacos al pastor, ropa vieja, and chile sauce-smothered burritos. To go with Distrito's margaritas, there are beer towers and countless tequilas – well, over 200. The original Distrito menu remains on the second floor, but Garces promises a new, more modern menu will be in effect there by Oct. 1.
Photo by Reese Amorosi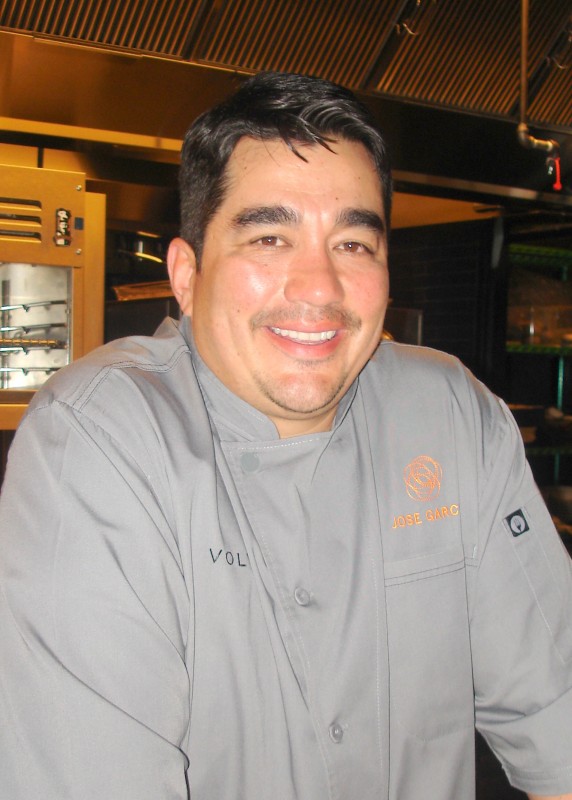 Garces has refreshed not only Distrito but also Volver and Bar Volver at the Kimmel Center. And Amada in Old City will celebrate its 10-year anniversary this October with some surprises. City Paper spoke with Garces and Chef Schmidt about all the changes.
City Paper: It's already looking as if September is a season of change for you guys — another new menu and set of options at Volver/Bar Volver, plus all that's going on with Distrito. Why was this moment ripe for change, and when did these decisions start to play in your head?
Jose Garces: Volver's menus will always evolve with the seasons. As for Distrito, with seven years in the space, it was time for a refresh and a retooling of the vision to suit the tastes and lifestyles of the University City crowd. We realized that the neighborhood needed a casual, affordable, social option and that a taqueria could provide it. The menu is super simple and allows the guest total control — pick your protein, pick your prep, add your condiments. We have large format beverages, like beer towers and punch bowls, and lots of items that are meant to be shared.
CP: The place was an adventure when it started. What did it mean to you – in a culinary and a social sense and how has it changed for you in the present day?
JG: I love the vibrancy of Mexican cuisine and the festive nature of its flavors. Distrito always paid homage to that – with an injection of fun and humor. The Taqueria takes the fun to the next level on the first floor and allows us to hone in on refined modern Mexican on the second floor.
CP: What is your take on Barbacoa? I know you're doing cabrito (goat Barbacoa) and barbacoa is the word of Autumn 2015. How important is it to you guys to reflect the culture authentically while making certain things are palpable for University City palates?
JG:  We will always stay rooted in classic preparations, but always try to make it our own.
CP: Who was in charge of the cosmetic changes and what do the switcheroos says about the Garces brand visually?
JG: Boxwood Architects and our facilities director Stephen Zacchi supervised the change. Our brand is about bringing people together for unique Latin inspired hospitality. The two concepts here, they do that well. The redesign is about happiness, togetherness, fun and celebrating our love for bringing people together.
Chef Maria Schmidt jumped on the next day and answered a few questions about Distrito's fall future – and its present day menu shift.
CP: So what can you say about what to expect upstairs at Distrito come October?
MS: We are definitely focusing on the ceviches. We want to use some new techniques as far as execution and we have been experimenting as much as possible. Regionally, Mexico is very diverse which gives us a lot of opportunity to sample many new products.  We are also looking forward to adding an alambres section and will be using specialty proteins with traditional Mexican cooking techniques. We want to keep the presentation contemporary.
CP: How do you reflect what was there in the past… the feel for all things Garces and Distrito?
MS: We opened seven years ago and will continue to push ourselves creatively and stay committed to Mexican cuisine and culture. Jose always has a vision of what he wants for our menus and he always allows me and our team the ability to express our style through our food.