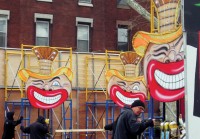 James Mundie
BROAD HUMOR: Props from the 2013 Ferko String Band performance "Ferko's Bringing Back the Minstrel Days" being rolled into place.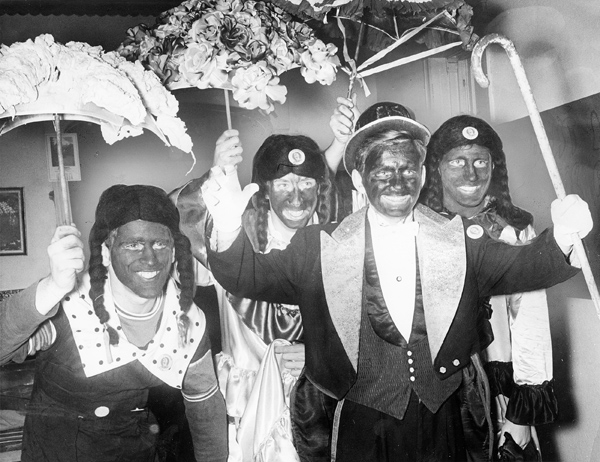 Philadelphia Daily News/Temple University Libraries, SCRC, Philadelphia, PA
SAY GEEZ: The original caption on this Daily News photo from just before the 1964 parade: "Two Streeters, members of the Hammond Comic Club that will wear blackface in Saturday's New Years Parade ham it up in practice."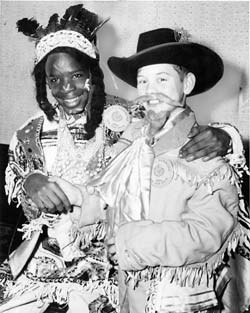 Philadelphia Daily News/Temple University Libraries, SCRC, Philadelphia, PA
BRAVE KID: Willis Fluelling, left, marched with the Hammond Comic Club as a teenager in 1964.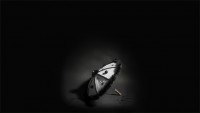 Neal Santos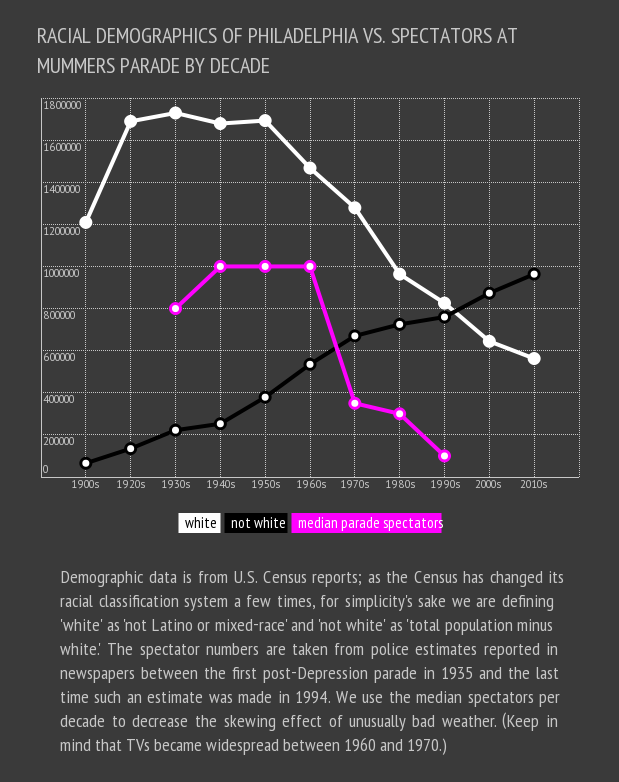 infogr.am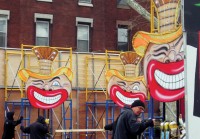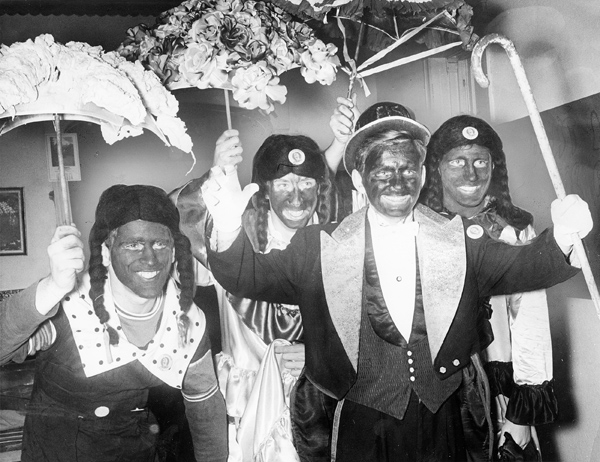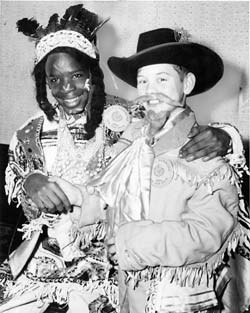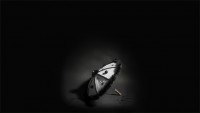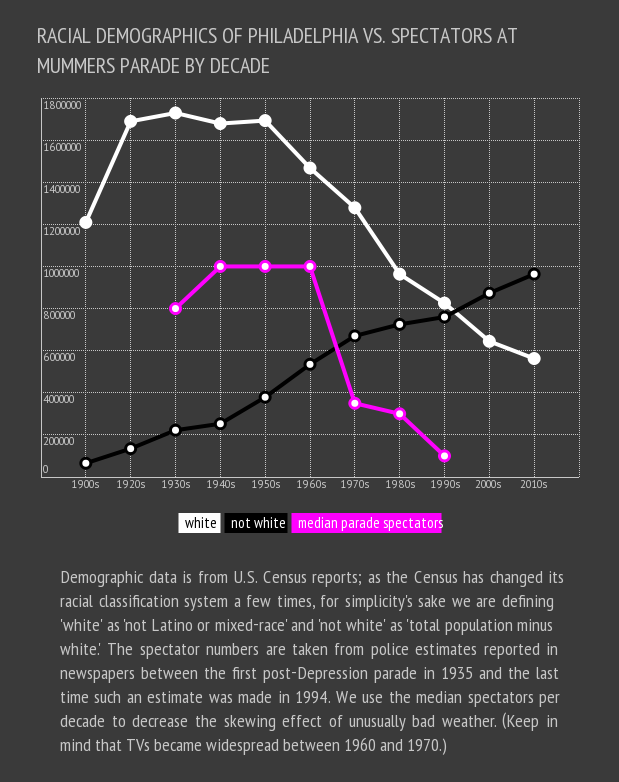 On Broad Street, two giant, white-gloved hands roll back to reveal the Ferko String Band, one of the oldest and most respected groups in all of Mummerdom; they've marched in every New Year's Parade since 1923. Their routine involves an Irving Berlin tune; it's not one of his most well-known ones, but sing along if you know the words: 
I recall when I was small and the minstrels came to town

I was glad because my dad

Always used to take me down

Often my memory strays

Back to those wonderful days

Those good, old minstrel days. 
From the title, "Ferko's Bringing Back the Minstrel Days," on down, the group's entry in last year's New Year's Parade was hardly subtle about what it was paying tribute to. Even if a parade goer wasn't familiar with "minstrel" in its definition as "an entertainer, generally white, who performed songs and jokes in blackface and probably had his best days between 1830 and 1900," there were plenty of hints. There's an homage to Al Jolson. A large black piece of scenery is painted with the word MINSTREL and a floating, white-lipped smile; most of the musicians, nearly all of whom are Caucasian, have white-outlined grins — painted over tan, orange or red faces. 
For the finale, out come four large, big-lipped, wide-grinning, top-hatted prop heads. The faces technically aren't black — blackface has been banned from the parade for 50 years. Their skin is light tan: not blackface, so they're not breaking the rule. It does, however, still resemble something torn from a creatively crayoned Amos & Andy coloring book.
The Mummers' minstrel days ended in 1964. It was unusually warm and sunny on the day of the 64th New Year's Parade, and at the time, decent weather usually meant a turnout of between a million and a million and a half spectators. But only 300,000 people showed up this time — for every one person who came, three or four decided Broad Street was not a good place to be. 
That's not surprising, given the circulating warnings about potential "blood in the streets" and rumors that black people had been recruited from Harlem and Chicago to wreak havoc. "If there is violence and we get beat, then we'll take our beatings," said Louis Smith, president of the Philadelphia chapter of the Congress of Racial Equality, of their plan to make a human chain to block the parade if blackface was allowed. Leave had been cancelled for the entire Philadelphia Police force, and thousands of officers were on duty. Newspapers were full of metaphors of impending explosion: "sitting on a volcano," "powder keg," "pouring oil on a fire." Philadelphia had been on edge for a long time, and on this sunny January day, it seemed likely that the blackface ban might be what would push it over. 
"If I can't wear a black face, it'll be brown or purple," one Mummer protesting the ban had declared. And Mummer historian Charles Welch, taking notes from the judges' seats, writes about a makeup-less Al Jolson, comics in "dark blue makeup, kinky hair," and "a picture of a minstrel in blackface on a large poster with 'Gone Yes — Forgotten Never.'" 
In 1964 and 2013, these Mummers were adhering to the letter of the law rather than the spirit. The early groups were protesting, actively trying to infuriate people. In 2013, though, Ferko String Band members seemed genuinely surprised and hurt at the negative reaction to their show. (Calls to their captain went unreturned.) And so go the microbattles of race in the modern era, which so often boil down to an infinite, crescendoing loop of "But I followed the rules!" and "But you missed the point!"
The Mummers' history with minstrelry is, unsurprisingly, something that nearly all contemporary Mummers wish would just stay in the past. But one of their own always seems to dredge it up again: "Ferko's Bringing Back the Minstrel Days," or the Goodtimers' "Al Jolson Sings Again" in 2003, or the South Philadelphia String Band's request to be allowed to use blackface in a Cotton Club-themed show in 1985 (denied), or the blacked-up faces that stubbornly show up on Two Street year after year. 
Without historical context to provide the leaky life rafts of nostalgia, tribute and homage, the recurrence of blackface seems baffling. And since most people don't know the history, they'll assume the most obvious explanation is the correct one: That Mummers are fucking racist.
But nothing's ever that easy, is it? 
---
In nearly every collection of newspaper photos of the New Year's Parade, there are a few shots that always appear: A close-up on the face of a wide-eyed kid. Lots of photogenic Fancies — at the very least, someone in one of those enormous, feathered backpieces and a wide shot capturing the full length of a 100-foot-long cape. A beauty shot of a pretty wench who could almost pass for female. A close-up of someone from a string band playing a saxophone. 
And then there's the wide group shot capturing a crowd of strutting Comics, the sector that has historically devoted itself to satiric pantomime, usually of current events. The clown-like figures — some in dresses, most looking intoxicated — brandish parasols and smile up at the camera. After 1964, their faces tend to be painted to match their outfits. Before 1964, there's usually a significant percentage in blackface. (The video below, from 1930, has some good examples early on.)
The history of the Mummers, particularly the comic brigades, is entwined with the blackface minstrelry popular in the mid- to late 1800s. But the roots go back further, before South Philadelphia was even officially part of Philadelphia. It was a poor satellite town of immigrant laborers and free blacks, and its poorest neighborhood was a swampy, near-rural shantytown known for its garbage-fed pig herds. This was the Neck — the birthplace of Mummery. 
The early history of the Mummers is inexact, says Christian DuComb — who teaches theater at Colgate University, wrote his doctoral thesis on racial impersonation in the Mummers and until recently was a member of the Vaudevillains NYB club — because nobody wrote it down. "Most of the Mummers' own history is oral; it's a working-class tradition, and the working class hasn't always had the resources to write its own history." 
While the early days are fuzzy, one thing's clear: In the 1830s, rowdy bands of proto-Mummers shooting guns off like Yosemite Sam started showing up at holiday time in arrest records and in the diaries of irritated rich people in Philadelphia proper, the area now called Center City. The drunk, costumed men were seen as a dangerous nuisance — the first formal parade in 1901 was essentially appeasement, as the city, unable to keep things under control in the holiday season, bribed the Mummers with prize money to hold their celebration in an organized on Broad Street. There was a definite sense of "At least we know where they are now." 
"In contrast to older, rural themes of semi-human disguise, Philadelphians commonly impersonated kinds of people," writes Susan G. Davis in "Making Night Hideous," a 1982 paper on historical South Philly holiday traditions published in American Quarterly. The two most popular types of disguises were the ones that required the least effort: "Wearing women's clothing was an easy transformation and popular. … Dressing as a woman could be as simple as filching a sister's dress." And: "Blackface was a popular theme in the street Christmas from the 1830s. … Like transvestism, blacking-up was quick and cheap."
"It's an easy disguise to get access to — all you need to do is burn something and smear it on your face to at least partially mask your identity, especially if you're performing or carousing at night," says DuComb. "Blacking up" had been a practice in many of the home countries of the Neck's residents, "but when the European practice migrated to the Americas," and especially to the Neck, a neighborhood with a number of free blacks, "it quickly took on an obvious racial significance it may have previously lacked." 
And so, at least 70 years before the first formal New Year's Parade, there it is, the origin of wenches and blackface: The first Mummers were too poor to buy costumes. 
Imagine the reaction, if tomorrow, a couple weeks before the parade, a large group of women came forward and declared that the wench brigades were insulting caricatures and therefore offensive to women. (As wenches are now fairly inoffensive, picture the suffragettes-putting-babies-on-spikes ones of earlier days.) Their group, these women say, will be doing everything in their power to ensure no wenches march in the parade: legal action, boycotts, picketing, even blocking the parade with their bodies. 
Unlikely to work, right? The wenches are a tradition going back hundreds of years, impossible to uproot in a few weeks. But, though it was just as long-lived a tradition in the Mummers, that's essentially what happened with the blackface controversy in 1964.  
---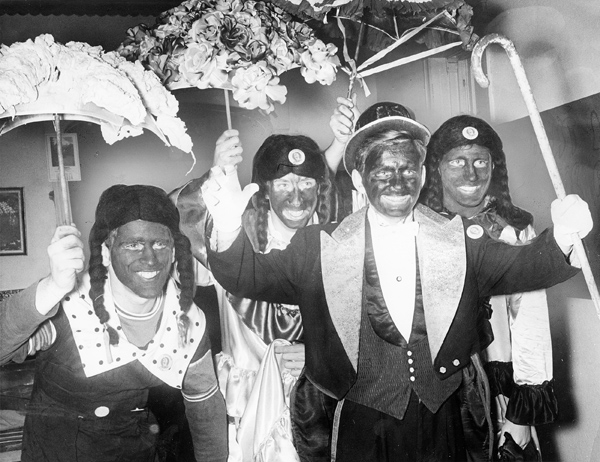 Mummers from Hammond Comic Club rehearsing for the 1964 New Year's Parade (Philadelphia Daily News/Temple University Libraries, SRCR
1963 had been a frustrating, violent year for the civil rights movement, with most of the victories still on the horizon. Martin Luther King Jr. was thrown into jail. Bull Connor used fire hoses and police dogs on a nonviolent protest in Birmingham, Ala. Medgar Evers was murdered in Mississippi. Despite JFK's request that it be put off for fear of violence, the March on Washington was held in August. In September, Birmingham rioted after the bombing of a Baptist church killed four little girls. And just before Thanksgiving, JFK was shot in Dallas. 
Philadelphia, though not in the South, was tense. Between 1940 and 1960, the black population had more than doubled as hundreds of thousands of blacks fled the Jim Crow South in search of good jobs in Philadelphia's industrial sector. Instead, the first arrivals were greeted by a highly segregated union system in which most skilled, technical and professional jobs were closed to blacks, and housing policies that crowded them into cramped ghettos, mostly in North Philly. 
Later arrivals had it even worse — the defense-industry jobs dwindled after the war, and with the beginnings of white flight, blacks found themselves marooned in an increasingly empty and blighted city with few jobs of any kind available. Early civil-rights leaders like Sadie and Raymond Pace Alexander got promising things through City Council, but lacked the muscle to enforce them. In 1963, newly elected local NAACP president Cecil B. Moore (constantly referred to as "fiery" by reporters of the '60s) had started pushing hard for more confrontation, a voice for the growing frustration with the status quo.
Parade Magistrate Elias Myers must have felt it in the air. In mid-December, without much fanfare, he banned blackface from the '64 parade — perhaps because this would be the first time it would be broadcast nationally. A couple of days later, he found his Two Street home being picketed by a bunch of young Mummers. A few days after that, Myers reversed his decision and re-allowed blackface. And that was what set things off — Cecil B. Moore, the NAACP and other civil-rights groups converged on the Mummers, with only about a week before the parade.
Many Mummers resented the last-minuteness of it all, and that it was being led by outsiders who didn't understand South Philly traditions — Moore and the bulk of his supporters were from North Philadelphia. 
Interviews in Patricia Masters' book The Philadelphia Mummers: Building Community Through Play suggest that a lot depended on north and south as well as black and white. One white comic club member who jokes that he's "probably the last living person involved [directly] with the blackface controversy," said he was confused about the suddenness of the anger about blackface: "If this was such a pressing issue, number one question I had at the time … was why wasn't this brought up in February, March, April for discussion?" 
Another man Masters spoke with, a black musician from South Philly whose brass band had been employed by Mummers for years, also saw Moore as an outsider: "Why he [Cecil B. Moore] brought them [the group of blacks] from North Philadelphia I have no idea, because they were not even associated with the parade. They were so far away. The blacks in the community in South Philadelphia lined the streets to see the parade because from Washington Avenue up to Lombard Street was a black area. … I think [Moore started the controversy] to start some problems, I really do."
But Moore hardly invented black opposition to blackface. In March 1954, North Philadelphia Councilman Raymond Pace Alexander had introduced a resolution for official disapproval of  "the ridiculing, satirizing, or holding in contempt or derision any race of people on the part of organizations and club members of the Mummers Parade on New Year's Day." 
After nine months, the Tribune headline "Alexander Wins Fight for Decency" is less accurate than a later description, "a victory of a sort." That is, City Council politely asked judges not to award the taxpayer-funded prize money to "groups that used ridicule of a racial or religious group as their theme." It's hard to say exactly what would qualify as over-the-top "ridicule" in any given decade — one comic club wore white, pointy robes and called themselves the "Koo Koo Kan" for a few years in the '20s — but the judges promptly awarded first-place prize money to "African Voodoo Warriors" in 1955. (You can observe for yourself what was allowed in the 1955 parade in this video clip.)
Cecil B. Moore was less interested in keeping the peace than in making things actually happen. Recalling covering desegregation in Philadelphia in 1963, journalist Lawrence O'Rourke wrote that "reporters who wanted a quote from black leaders frequently sought out the same people, starting with Judge Raymond Pace Alexander and his wife, Sadie, distinguished members of the black community. For more firebrand quotes, reporters called Cecil B. Moore." 
So when magistrate Myers brought back blackface, Moore and the NAACP immediately went after the Mummers' money. Using the courts, protests, boycotts and political pressure, they targeted the Mummers' parade permit, the taxpayer-funded prize money and lucrative broadcast deals. Now, both sides were angry.
Tensions peaked when the NAACP's court motions were thrown out on New Year's Eve, less than 24 hours before the parade was supposed to begin, with the impossible reassurance that "the city, which sponsors the parade, had promised that no part of the performance would offend anybody, racially or otherwise," wrote the Associated Press. The patronizing tone infuriated activists, and they began to sound a bit threatening, as in this quote in the Tribune: "I'm worried about what's going to happen when the parade passes Broad and South Streets," [Moore] said. "I'm trying to prevent tension." Every police officer who'd taken New Year's Day off was called up for duty. The threat of imminent violence was now big news even outside the region; a front-page Washington Post article began: "It was New Year's Eve in Philadelphia when the Rev. Henry H. Nichols told a reporter: 'I pray the good Lord will stop the parade with a snowstorm.'" 
---
Defusing the situation took the intercession of less-confrontational, old-guard black activists, church leaders and, some claimed, the good Lord. (Or a Nor'easter.) 
"We prayed for snow on New Year's Day and got it," said the Rev. Nichols, after a sudden bout of bad weather caused the parade to be postponed only two hours before it was to start. "Now we are praying that understanding will come." And in the three days the snow bought, Nichols and other older-school activists proposed a compromise that would bar both blackface and protesters from the parade. It was quickly approved by the same court that had just tossed out the NAACP's requests. 
The parade itself was an anticlimax. Few Mummers showed up in blackface, and those who did were removed from the parade. Activists stayed home. The most noticeable sign of tension, aside from the above-average number of police officers and below-average number of spectators — if you want an idea of what the day looked like, there's some really interesting snippets of silent footage of police situation here and the Mummer protestors here — was probably Hammond Comic Club's chants of "1, 2, 3, 4, we hate Cecil Moore!" being briefly audible on the national TV broadcast. 
Hammond had headed the resistance to the blackface ban. At the parade, members wore no makeup at all, though apparently some applied blackface on the fly as they marched; they refused, as did a few other groups, to perform as they walked through a stretch of black neighborhoods; they even had a "sit-in protest." According to historian Charles Welch, they "sat down in the middle of the street, some shouting, 'Negroes sat down in City Hall, we'll sit down here.' … The police quickly moved in and forced the Mummers to rise. The entire incident lasted about 20 minutes, after which the paraders again started up the street." 
Welch also has notes on Hammond from the judging area: "HAMMOND: Blackface used by some Mummers — no reaction from the crowd. Young Negro boy dressed as an American Indian, elaborate costume, red makeup." 
The same kid turns up a week later in the Inquirer brief "50 in Blackface Join Parade Honoring Myers," on a 200-Mummer parade in support of the magistrate's ultimatum that he'd resign if the blackface ban was made permanent.
Though the Mummers have always been predominantly white, there were more black Mummers before the Depression hit, when minorities made up less than a tenth of Philadelphia's population. Today, when "minority" describes nearly two-thirds of Philadelphia's population, there's barely any. The brass bands, which provide music for the comics, tend to mostly have black members, but they're being paid, don't dress up and don't call themselves Mummers. 
---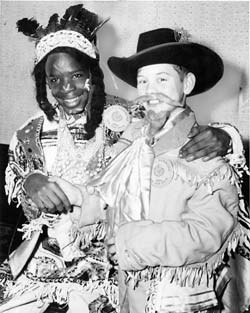 Philadelphia Daily News/Temple University Libraries, SCRC
Willis Fluelling, the kid who marched with Hammond, was proud to call himself a Mummer. Fluelling, now 64, has suffered several strokes over the past decade, and has difficulty speaking. However, he's happy to express how much he enjoyed his first year in 1964 — a photo of him and a younger kid playing Custer to his Crazy Horse appeared in the Daily News. "The costumes were so extraordinary — I wanted to be in it, real bad. I was a kid, I just jumped right in. … Some white boys got me in."
Was it strange being the only black Mummer in Hammond, and nearly the whole parade? "No, it wasn't. No." 
Was being in Hammond during the blackface controversy strange for him? "No, it wasn't." 
What was it like marching in the '64 parade? "Nice." 
What did he wear? "An Indian costume — Custer's Last Stand." What was he doing? "Killing Custer." 
His wife, Bernette, interjects: "He was struttin'! Or whatever they call it." She giggles at the feel of the unfamiliar word.
When the two met in 1971, Fluelling was still an active Mummer, which surprised Bernette. "He told me that he was marching in the parade, and, of course, I laughed. I told him at that time that I didn't see any black people in the parade!" She laughs again. "And he said, 'Well, come down Broad Street and see me parade!' And I went down Broad Street and saw him parade; I was laughing! I was shocked because everybody knew him in the parade, since he'd been doing it since he was little."  
The Mummers were much less of a presence in her own childhood, growing up in a mostly black neighborhood "up on 22nd Street." In fact, she says, she never really thought about them at all. "We had our own parades up our way — there wasn't no white people in the parades we had," she laughs, so the Mummers being mostly white didn't seem unusual. It was just who lived in that South Philly neighborhood. "At that time, blacks was throwing more parades with precision — like, twirling the baton and doing the stepping."
Fluelling says the blackface controversy didn't bother him at the time, and that his feelings about the parade haven't changed. "I figured that blackface was in the parade all those years, and nobody said nothing about it." 
Bernette jumps in: "He was young! We were all young at the time." 
And as kids, she says, they didn't really follow the news. "All we were thinking was how pretty the costumes were. … We weren't thinking about any of the overtones, because we didn't know anything about that."
After the two started dating, she says, they got more into studying the Bible, and he started spending his free time on that instead of the Mummers. More than that, Bernette would rather not say.  "We don't get into political affairs — I have my opinion, but me and my husband would rather keep our opinion to ourselves; if you say something, it can get misconstrued."
---
In 1963, a Mummer told the Associated Press, "Minstrelry is a part of the tradition. … No offense ever was meant, and so far as I know, none was ever taken." Five decades later, a surprising number of people are still using this argument anytime anybody is offended by anything. These days, it often comes with an undercurrent of "and fuck 'em if they can't take a joke," suggesting that 50 years of being called racist grates on the nerves. 
The Mummers still have a race problem. It's not the occasional tribute to Al Jolson or Joey Vento-sponsored "Speak English/Our jerbs!" skit about illegal immigration. It's the impression that they give off: that the Mummers are by white people and for white people, and don't particularly care if anyone else likes them. "Anyone else" used to be an insignificant number. But since the first official parade in 1901, Philadelphia has gone from 95 percent white to 37 percent white. Not thinking about what things like "Ferko's Bringing Back the Minstrel Days" will look like to 5 percent of the population is thoughtless; not thinking about what they look like to more than half of your city is slow suicide.
"It's not just, 'It made me uncomfortable,' it's 'The Mummers are racist!' That's what they say," says Stu Bykofsky. Last year, in response to a bunch of commentary on Ferko and other iffy performances (including "Indi-insourcing," shown below) that year, the Daily News columnist and skilled troll responded by slamming people who were "finding other forms of 'racism' in the parade, drawing insipid conclusions from their aggressive ignorance." His advice then: "If you're offended, here's a buck. Try to buy a sense of humor. Or an ounce of sense."
The Philadelphia Police used to take an annual stab at estimating the number of parade spectators; the highest was 2 million in 1949, and estimates of over a million were common in the 1950s and '60s. They stopped doing these after an estimate of 22,000 at the 1994 parade caused a lot of angry blowback. It was later revised to 60,000 to 70,000 — three drops in a bucket rather than one. Today, the turnout gets only an adjective, nearly always something like "thin," "disappointing" or "anemic."Bykofsky has been a staunch advocate and defender of the Mummers for decades. But even as he skewers humor-lacking donkeys, he's lamented the loss of the "Good Old Days," and the decline in spectators, clubs, and attention the Mummers are dealing with these days.
Bykofsky says he doesn't think the "accusations of racism" are a factor, but that something's definitely been lost. He sounds genuinely sad. "I think that, for whatever reason, the Mummers' time is past. This wonderful, beautiful, truly spontaneous folk celebration has run out of steam. For whatever reason." 
Is the massive decline in spectators because of TV? Less free time on weekends? The ungodly inefficiency of the parade of late? Yes, probably. 
But here's another correlation: Philadelphia's white population has steadily and dramatically declined since the end of WWII; it's a third of what it was in 1950.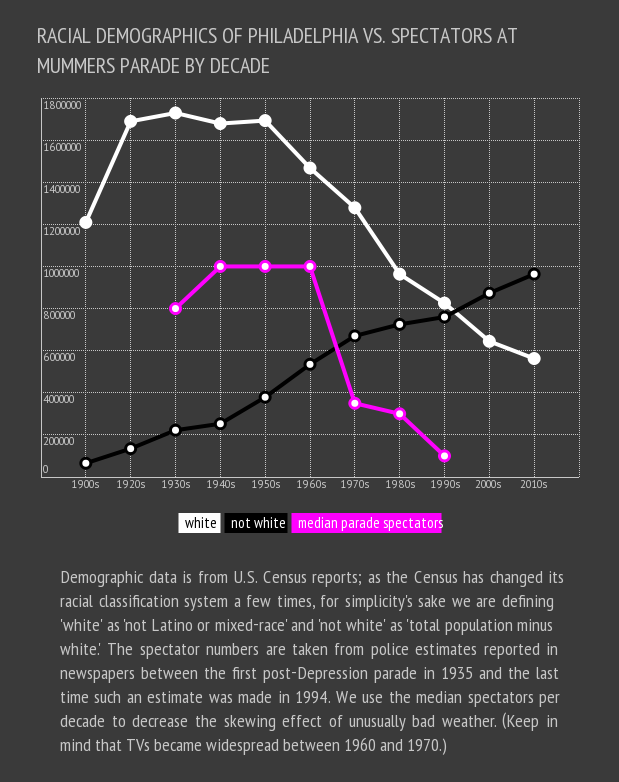 It's hard talking about this without using jargon like "privilege," but I've avoided it because for many people, "privilege" evokes images of rich kids driving expensive cars. In this context, though, what it means is "a group that only has to think about this stuff in the abstract, because it doesn't affect them." Bykofsky rolls his eyes, but though he scoffs at "white privilege," he says that "black un-privilege" is obvious.
So let's say it like this: The Mummers began as the smallest of the small, in the crappiest, poorest, most violent and gang-ridden area of South Philadelphia. But they crossed the line from weak to strong a long time ago, probably around the time the Irish or Italian or Polish crossed the line from despised ethnic minority to white. This isn't saying that they were suddenly on top of the world or that their lives had no tough problems, but they were able to get the factory jobs that were closed to blacks in the '50s and '60s. They are no longer the "un-privileged," but they don't seem to recognize this. 
When the weak poke fun at the strong, it's satire; when the strong poke fun at the weak, it's just kind of being a jerk. And people remember that sort of thing. 
So anyone who truly wants the Mummers to flourish will stop telling anyone who speaks up about things that offend them to sit down, shut up and to learn to take a joke. Because those people probably will shut up, but that silence isn't the sound of a newly purchased sense of humor. It's the silence of the deadliest predators of the new era: the raised eyebrow and the 180-degree turn, currently sucking the life out of the Republican Party, the Atlas Shrugged film adaptations and Charlie Sheen. If the Mummers don't start thinking more seriously about what they're saying to most of the city, there's likely to be silence on Broad Street within a decade or two. 
Court injunctions, human chains, riots, blood in the streets: With all the high drama swirling around the 1964 New Year's Parade, how strange that in just 50 years, the greatest threat to the Mummers is not a bang, but a shrug.