Mark Stehle
18th Street and the Parkway • 6:30 a.m.
A bar of concrete and oodles of police block Sister Mary Scullion from getting access to the grotto she helped create outside the Cathedral Basilica of Ss. Peter and Paul. But after waving a paper with a list of names, she persuades someone with clout to let most of her small group pass.
While waiting at the barricade, Sister Mary practices her Spanish, because she has learned only recently that she might get to meet Pope Francis later this morning at the grotto. That is where tens of thousands of people have written their deepest yearnings on thin white strips. The prayer ribbons are tied in knots — rep­resenting struggles — to the wrought-iron fences, to thin wires and to the ribs of the grotto itself.
The poor, the homeless, those in prisons and the addicted have all been invited to add their prayers to the art installation created by Meg Saligman. And last week, pilgrims from around the world who are here for the World Meeting of Families turned the grotto into their emotional touchstone. They waited in lines a block long to add their struggles to the collection. Now, reports say, 100,000 prayers are floating in the breeze.
Those who have been behind the grotto — inspired by one of the pope's favorite paintings, Mary Undoer of Knots — hope he will stop by for a blessing. But Pope Francis arrives at the cathedral, celebrates Mass and leaves without visiting.
"Bummer," says Will O'Brien, special projects coordinator at Project HOME, Sister Mary's influential nonprofit that advocates for the homeless.
But then, a small miracle, like the rainbows that will be spotted all over town later this day, occurs. You can read what happens if you follow along to Sunday afternoon. —Lillian Swanson
30th and Market streets • 10 a.m.
Organizing bicyclists isn't quite like herding cats, but there is something futile about trying to tell us what to do right now. We're too distracted — pedaling in circles, adjusting our newspaper pope hats, taking selfies — to pay attention to what the guy with the megaphone is saying. He's trying to tell us that, since there are about 3,000 of us on the PopeRide, we'll be deployed in 100-strong pods every few minutes or so. Something like that. Who cares?
We've biked here from all directions — including a group from Conshy — so we already know what we have to look forward to: wide-open, traffic-free streets like we've never seen before. The start, closely monitored by police and bottlenecked by concrete barriers, is the only time we feel held back.
The moment our pod is released, we fan out. All smiles. Down Chestnut, across Market, up Delaware Ave., all over. Cars are minimal. Lights are ignored. We own the town.
The lazy, winding, 10-mile ride ends a little over an hour later, around Fifth and Spruce. There's no finish line, just a gradual dissolution. "Everybody go to McGlinchey's," one woman yells as she rides by. Sounds like a plan. —Patrick Rapa
Cathedral Basilica of Ss. Peter and Paul • 10:15 a.m.
First came the cops on motorcycles with their throaty engines roaring. Then the big black SUVs slid by. Finally, the little black Fiat with the big man inside pulls up to the curb outside the mother church of the Catholic Archdiocese of Philadelphia. From the crowd waiting for hours comes multiple shouts of "There he is!" as the spectators cheer, applaud and crane their necks to see the humble man who prefers the title "bishop of Rome."
This is the second time this week that Carolyn Benigno, a Washington, D.C., registered nurse, has seen Pope Francis. She waited seven hours to get a glimpse of him near the White House on Wednesday. Today, it is only a four-hour wait.
"You're a pope groupie," I tease her.
"I am," she answers, laughing.
The pope emerges slowly from his car, and all you can see is the back of his head, and the bright white cap atop. He climbs the middle steps toward the cathedral's open doors, hesitates and turns around to wave broadly. Another huge cheer goes up.
Then he disappears inside the stone basilica to celebrate an invitation-only Mass for the area's priests, nuns, religious and other church faithful.
Before his arrival, spectators in the crowd follow his movements on their cell phones — tracking him via newscasts arriving at JFK Airport in New York, airborne, arriving at the airport in Philly, comforting a boy in a wheelchair, and then heading by motorcade into Center City. All the while, the crowd is friendly and chatty, and children are moved up to the front of the barricades so they can see better.
The Jumbotrons around City Hall, Love Park and the Parkway broadcast the Mass, but there are no screens in front of the basilica, so those who wait there for the pope to leave are in the dark about what is happening inside. —Lillian Swanson
Broad and Walnut streets • 10:30 a.m.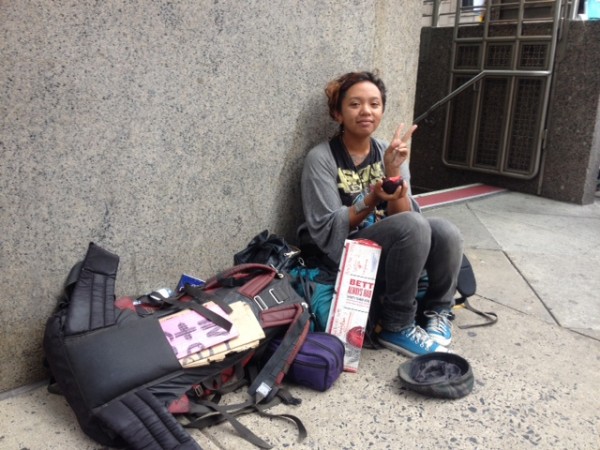 As television crews set up cameras to capture pilgrims in candid moments on the Avenue of the Arts, Oliva Jones sits there at Broad and Walnut. Despite living her life on the streets, she looks happy, the bags containing all of her worldly possessions lined up neatly to her right. Passersby barely take note as she smiles, resting against the marble wall of Banana Republic.
"I wish it was like this every day," she says when asked about what she thinks of the festivities. She hails from Hawaii and found her way to Philly by sheer luck just in the time for the pope's visit. Thousands of miles of wandering brought her here by chance when many, including Pope Francis' delegation, had planned their trips in great, and sometimes tedious, detail.
The freedom of her existence seems to assuage the insecurity of want. Then again, when you've got nothing, you have to look on the bright side. In my experience, it's the only way to confront reality.
"You know, I was on the street two years ago," I say.
"How'd that work out for you?" she earnestly asks.
"It was hard. Is it hard for you, too?" I respond.
"Where I stay is far from the security, so they didn't hassle me," she replies, referring to the sweeps authorities made of Philly's homeless population in preparation for the visit.
"I just got a phone, too," she says, smiling again, adding that she is hoping to take a picture with the pope. Whether she is serious or not is unclear.
But, it is clear that even though she has no money, her spirits are lifted simply because everyone else is being so nice.—Josh Kruger
The Parkway and 16th Street • 10:30 a.m.
Enrique Bera, sitting with his back against a barricade, looks content and peaceful, though he's been trapped for hours. His youngest daughter, Lupita, 7, is dead asleep with her head on his leg, hair and one hand peeking out from beneath a fleece blanket. His wife, Dominga, 40, is asleep with her head on his shoulder; their 11-year-old son, Jesus, is asleep on the ground behind her; their 9-year-old daughter, Kimberly, is up chatting with members of the group they traveled with. Bera, also 40, and his family traveled from Phoenix to try to catch a glimpse of the pope in person, despite not having tickets to any of the official events. The family slept in this spot on the Parkway, near 16th and JFK, in the hopes of having a front-row view as the pope arrives at the basilica this morning.
It's unclear whether the pope will actually pass this spot, though. The Secret Service hasn't released much information about the routes Pope Francis will take between events, leaving pilgrims like Bera and his family to guess.
"It's a benediction to see the pope; Jesus is in him," Bera says. He pronounces it "pop," halfway between the English "pope" and Spanish "papa." It got a little cold last night, but, he says, "This is a good way to show the kids faith." They had plenty of blankets, and everybody but him got a pretty good night's rest despite the noisy golf carts and food trucks nearby. The night didn't seem long, says Bera. "When you're waiting for something from Jesus, it's short — this is one of the greatest experiences of my life."
The conversation wakes up Dominga, who sleepily wanders off to check on their older daughter. Bera nudges the sleeping little girl on his lap to see if she wants to talk to a reporter, but she doesn't stir. He smiles and pulls the blanket back over her head. The pope is due to arrive in 15 minutes or so, so she'll have to wake up soon.
Two hours later, Bera, his family and thousands of pilgrims nearby are beginning to get anxious as the minutes tick by with no sign of Pope Francis. He arrived at the basilica via Vine Street, so all these people, many of whom have waited for hours, have only gotten to see his image on the huge video screens lining the Parkway.
About 12:15 p.m., people begin to share rumors. One woman receives a text from her son, a sophomore at St. Joe's University who lives across from the Jesuit seminary, where the pope is due next. "He says he just heard a lot of sirens, and then a lot of students rushed up to the fence trying to see him!" Another woman's mother, watching live on TV at home, texts an all-caps "MOTORCADE WESTBOUND ON SCHUYLKILL" to great disappointment. "No, Twitter says he's still in the chapel!" yells someone else. Everyone is either on high alert for an incoming motorcade or dispirited at probably having missed it.
About 12:40, photos emerge online of Pope Francis arriving at St. Charles Borromeo Seminary. He had left without passing by. A large groan goes through the crowd.
Bera looks disappointed but is still upbeat. He shrugs. "Well, we'll stay here until 4!" he says — that's when the papal parade is supposed to begin. The Secret Service has also not released the parade route to the public, but Bera has faith. —Emily Guendelsberger
McGlinchey's Bar • 11:30 a.m.
I guess the plans changed. There are only four customers, a bartender and a cook. No bicyclists here. I sip cold cider from a glass mug. The pope's visit to the cathedral is on the middle TV, flanked by two soccer games on mute. Archbishop Chaput makes his joke about how Philly's so poped up we could rename our city "Francisville." It knocks 'em dead in the church but nobody smiles here.
"Hey, he's wearing it," the bartender yells to the cook, who's disappeared into the back. "First time I've seen him with the pope hat on."
Mass is over. The bartender and the cook joke about the organist hamming it up at the end. It's like that time on The Simpsons, when Bart replaced the hymn with "In-a-Gadda-da-Vida." —Patrick Rapa
Ben Franklin Bridge • Noon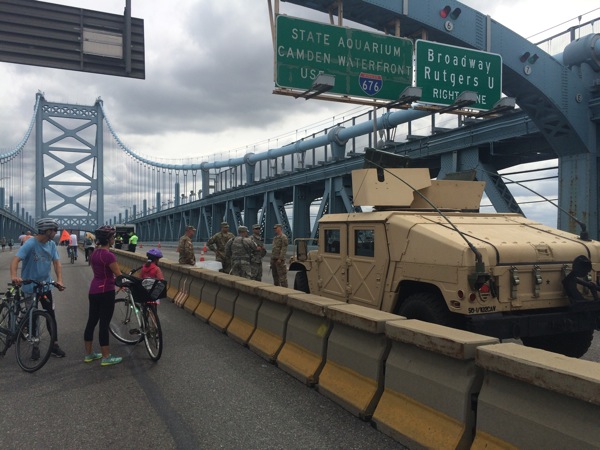 The Ben Franklin Bridge is nearly 2 miles long, and takes roughly 30 minutes to cross by foot. A National Guard Humvee rolls toward Philadelphia from the New Jersey side, heading west in an eastbound lane. The bridge has been closed to regular traffic for the weekend. The westbound side has been reserved for pedestrians.
Matt Kelchner, a bearded Philadelphian in his 20s, fishes his phone out of his pocket to snap a picture of his friend, who stands on the concrete median with her arms outstretched. "We've been out here for 20 minutes, and it seems like there's more Philly people here than actual pilgrims," he says.
There was perhaps no better microcosm of what happened to traffic on Philadelphia's streets than the bridge itself: Residents, initially intimidated by the war machines rolling through Center City, soon turned the car-free streets into a playground. Many spent their time biking smack in the middle of abandoned streets, and the bridge became the city's ultimate urban trail.
As Kelchner tries to take a photo, a man with a graying beard zips past on an expensive-looking road bike, holding a cell phone to his ear with one hand. "I've never seen anything like this," he says into the receiver. "The whole town is closed."
A little girl in a pink helmet, biking toward New Jersey with her mother, stomps down heavily on her pedals, struggling to make it up the bridge's incline. At its peak, the Ben Franklin reaches about 13 stories. The girl stops pedaling and grabs hold of the median. "Can we come down now?" she asks her mom. —Jerry Iannelli
Independence Hall • 3:45 p.m.
Barely a minute after Gov. Tom Wolf wraps up his speech outside Independence Hall, the video feed that had been focused on the podium switches to an image of the papal motorcade, and the big crowd falls silent. People sitting on the ground near the Jumbotrons shoot up from their seats, rising up around the screens in concentric waves.
Screams float in from blocks away. He is close now. We can hear it.
On the video feed, you can see his vehicle crossing Sixth Street and slicing the giant lawns on Market. The screams only intensify.
The white Popemobile crosses in front of the Bourse. He enters Independence Hall through its south door and takes a brief tour of the Assembly Room inside. The camera is fixed on the north door, waiting, four minutes, five.
A cymbal crashes, and the band strikes up Aaron Copland's "Fanfare for the Common Man."
The door cracks open, and there he is.
In his speech, delivered in Spanish, Pope Francis talks of the particular ability immigrants have to "enrich" the nation. He implores immigrants, especially those from Latin America, to keep a tight hold on the traditions that bind them. "Do not be ashamed of that which is a part of your lifeblood," he says. The Spanish speakers in the crowd cheer heavily. Those who speak only English, however, crane their necks to read the translation at the bottom of the Jumbotron.
"I could not see the subtitles, so I just sort of cheered along," says Nycole Watson of West Philadelphia. "I'll have to go home and watch it on YouTube. I'll clap watching it on my laptop." —Jerry Iannelli
SugarHouse Casino • 4:15 p.m.
Bartender O. is an upbeat beacon in a smoky room, and his smile draws us to his bright, shiny bar with video poker screens built-in. I sip Jack and coke. A sloppy drunk makes lame jokes and drapes an arm around his lady friend like an elephant's trunk.
O.'s from the Caribbean, originally. He worked in a casino there, too. Moved up here for love and marriage. This whole pope thing's been bad for business, he says. Across the gaming floor, lights are twinkling and slot machines are blooping, but it's only an illusion of hustle and bustle. There just aren't that many people here, far fewer than usual for a Saturday afternoon, O. says.
His quarrels with the pope extend to the theological. "I can confess to God directly," he says. "I don't need to confess my sins to a man, you know?" He shrugs.
For about three seconds, one of the giant screens behind him shows the Popemobile before the bartender with the remote settles on the Penn State football game, at a customer's request. —Patrick Rapa
Logan Circle • 4:20 p.m.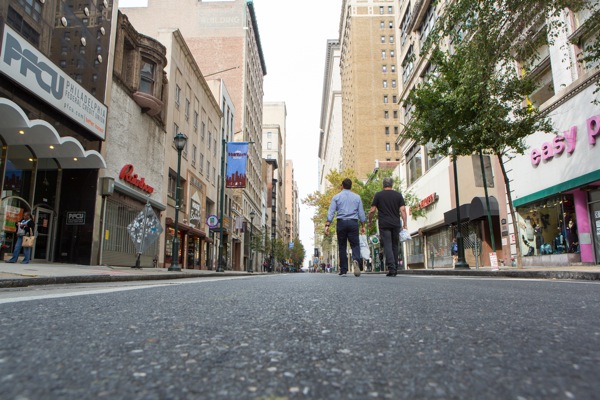 An image of the pope appears on a Jumbotron in the distance and the crowd that has been waiting for hours surges to the barricades. "Hurry! The pope!" a woman shouts. Ah, false alarm. The image on the screen is of Pope Francis being greeted by thousands of spectators as he arrives at Independence Hall for his much-touted immigration speech. And here we thought he was about to round Logan Circle.
So we wait some more. Latino accents mix with New York City-style fuhgeddaboudit brusqueness. Around 5:30 p.m., a Philly cop tells us the pope won't be driving by here until 7 p.m. Many of us have been waiting since 3 p.m. or so, and we're growing eager, impatient — and overzealous. A group of boys and girls several feet away, all of them wearing gold bandannas on their heads, start a chant: "We love Jesus! How 'bout you? We love Jesus, yes we do!"
Shortly after 7 p.m., people on one side of Logan Circle start shouting, and we know it's Pope Francis coming toward us on his parade route from Eakins Oval to City Hall and back. At 7:23 p.m., the pontiff, high in his Popemobile, comes by rather quickly. He turns and waves to us. The moment passes like the snap of fingers. The Haro family — mother Georgina, father Jesús, children Saul, Nancy and Jenny — had made a 10-hour trip from Detroit for a five-second papal wave. No matter. As Georgina tells me: "I feel like a dream came true in our lives." —Andrew Zaleski
11th and Pine streets • 6 p.m.
A pair of National Guardsmen stand watch at the corner, occasionally laughing with each other. Now and then, bicyclists ride by or young parents push expensive strollers in the middle of Pine Street.
It is quiet far away from the crowds, save for the music playing from Boris Ginsburgs' radio — twangy music with a strange melody, as if the smell of patchouli was turned into a sound. A small, extinguished charcoal grill sits nearby. Ginsburgs offers me some chicken.
"I just ate. Thanks, though," I say. "But, what's going on here?"
Ginsburgs explains that he and his wife own Melange Tea & Spice. In order to protect the business from any papal-visit craziness, they wanted to camp out there at the store and figured a neighborly cookout, utilizing the clear sidewalks and streets, was in order.
Four of their neighbors sit in lawn chairs on the sidewalk in true Philly fashion. Ginsburgs, standing nearby and holding a red cup that smells of alcohol, says that the sweeps of Philly's homeless population closer to the festival grounds drove new folks into the neighborhood.
"A homeless migration?" I ask.
"Yes," he says. He wasn't sure what the added variable would do, so he wanted to be there. Plus, he was worried about people — pilgrims or otherwise — camping in Kahn Park. Nobody did, though, which likely had something to do with the heavy military and police presence nearby.
That heavy presence also contributed to a total lack of business, Ginsburgs laments. But he isn't too upset about it.
When there's nothing to do, he muses, there's always music and barbecue. —Josh Kruger
19th and Callowhill streets • 8 p.m.
Jaleel Warren has had a long day. His sales crew is set up behind a table at 19th and Callowhill and just beginning their 13th hour of sales. When he found out Pope Francis was coming to Philadelphia, he thought it would be a good opportunity not only to make some money, but also to give visitors a souvenir to remember the weekend. So along with Mike White and Kenneth Freeman, the West Philly resident printed 500 T-shirts to sell to Francis festivalgoers.
"We've been getting hassled all day long," Warren says, slightly dejectedly. This is not the hopeful Jaleel Warren that I ran into nine hours earlier, when he and his crew were set up at 19th and Spring Garden.
Apparently, inspectors from the Department of Licenses and Inspections visited Warren and his crew and told them they were not allowed to sell inside the 4.7-square-mile traffic box the city established for the papal visit.
Weeks earlier, Freeman tells us, an employee in the city's Commerce Department told him differently: They couldn't sell shirts inside the security checkpoints set up for the weekend, but anywhere else was fair game.
After being shooed away from 19th and Spring Garden and 15th and Spring Garden by L&I inspectors, Warren's crew feel like the $300 street-vendor permit they purchased to legally sell T-shirts on the street was a waste of money.
"It defeats the entire purpose of even purchasing the permit," says Warren. "We'd be lucky if we sold a hundred T-shirts." —Andrew Zaleski