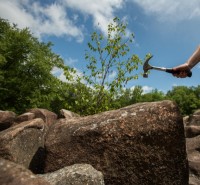 Dave Tavani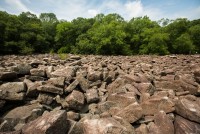 Dave Tavani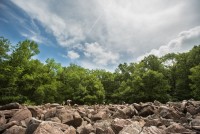 Dave Tavani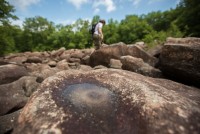 Dave Tavani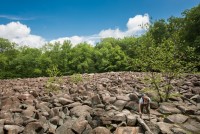 Dave Tavani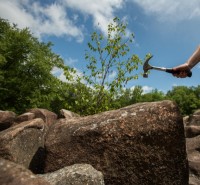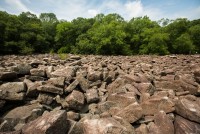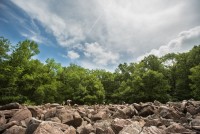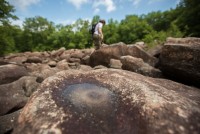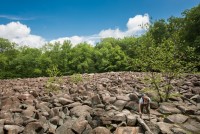 Ringing Rocks County Park // Free // 63 miles/1 hour, 24 min. away // Ringing Rocks Road, Upper Black Eddy, Pa., 215-348-6114, buckscounty.org.
Q: How long can you run around hitting boulders with a hammer before you get bored?
A: A surprisingly long time.
The appeal of Bucks County's famously strange Ringing Rocks County Park is supposed to be about the ringing. And that's certainly part of it.
We're talking about 7 or 8 acres of people-sized rocks — tucked into some gorgeously untamed woods, but easily accessible by car — and a lot of them make unexpectedly interesting sounds when struck by a hammer. It's BYO hammer, by the way.
Some are light and pingy, like microwaves; others are deep and clanking, like steel girders. And there doesn't seem to be any correlation between the size or shape of the rock and the sound of its ring. So you just have to keep hammering.
The harder you hit, the louder and clearer the sound. Some rocks bear whitish bruises from centuries of hammering. These usually ring the best.
Doesn't matter if you're standing on a rock when you hit it. It still rings.
Pick up a chip banged free by a previous visitor, place it in your palm and strike it with the hammer in your other hand. It still rings.
High in iron and aluminum, the rocks were formed by volcanoes during volcano times. Later, they were smoothed by rushing water and gathered together by forces science can't really explain so let's just say God did it. Same with why they ring: God.
You may imagine the musical potential. Every five or 10 minutes a wildly swinging visitor stumbles onto a staccato interpretation of some recognizable tune, be it "Mary Had a Little Lamb" or "Louie Louie" or "Chopsticks" (a duet for two hammers). But there are limits; YouTube offers several examples of musicians attempting to make use of ringing rocks, in Pennsylvania and elsewhere. At best, they sound like the Liberty Bell being tossed down a staircase.
Of course, there's a pleasure beyond the auditory here. I'm talking about the visceral joy that comes from attacking things. Natural things. It's a satisfaction usually enjoyed only by hunters, loggers and polluters.
Environmentally conscientious cityfolk like myself — people who participate in community cleanup days (found a hobo's dildo once!) and whose search history includes "how do I recycle shoes?" (mail them to a major sneaker company; they'll get foreign toddlers to deconstruct them) — are rarely afforded this sort of hands-on opportunity to put nature in its place.
And it feels great. Rocks were here before us, and rocks will inherit the earth long after we've killed ourselves off via global warming/hand sanitizer. But right now, we're running things. We wield the hammers.
Also in the Mid-Summer Fun Issue: