Neal Santos
SAUCED: The idiot author, as assisted by his beautiful and supportive girlfriend.
I wonder what Auguste Escoffier, king of chefs and chef of kings, would've thought about me shopping for ingredients at the Grays Ferry Avenue Pathmark at midnight on a Friday.
As I shuffled through each cold, abandoned aisle, loading up on butter, heavy cream, eggs, more butter and more heavy cream, I pictured the spectre of the indomitable French chef floating alongside my cart, pinching one corner of his snowy moustache and shaking his head in disbelief. (In photos, Escoffier, who died in 1935, bears a noted follicular resemblance to celebrated character actor Sam Elliott.)
Why was I experiencing such strange supermarket hallucinations? Because I'd made the decision to cook a multi-course meal out of Le Guide Culinaire, the father of haute cuisine's 108-year-old book that's as close to a holy text as it gets in the culinary world. First published in 1903 and released in its latest unabridged English translation by Wiley in June, Le Guide is the Quran of the kitchen, the exhaustive encyclopedic standard to which all other cookbooks are held, consciously or not.
Naturally, it possesses a reputation for being impenetrable and often outright impossible to comprehend — or at least that's what I'd been told by scads of chefs, all of whom used the book at some point in culinary school and offered bemused empathy when I told them what I planned to do.
Le Guide contains more than 5,000 recipes of varying accessibility. Some are shockingly cryptic. Here is the entire recipe for roast joints of beef in the English style: "These are cooked rather well done and are always served accompanied with Yorkshire pudding." Thanks, bro. For others, Escoffier's cerebral and idiosyncratic "instructions" are often nothing more than extemporaneous thoughts that make about as much sense as the Kill Bill analysis paper I wrote for a college film class. (The chef on poaching: "The most appropriate phrase to describe this process is boiling without actually boiling, if such an expression really makes sense.") The sauce chapter is 40 pages long. There are more than 75 preparations for potatoes alone. Everything is garnished with fried parsley. I'm pretty sure some of the birds listed in the "Roasts of Furred and Feathered Game" section are now extinct. What the shit is a fig pecker?
"I wanted to create a useful tool rather than just a recipe book whilst leaving the reader free to decide on the way to carry out the work according to his own personal views," Escoffier — I'll now call him Auggie, as we're boys — writes in his intro.
My personal view going in? I am unequivocally fucked. If pros find this book such a pain, how would an amateur such as myself fare?
I brought Le Guide to Peter Woolsey, chef/owner of Bistrot La Minette, figuring his Francophilic leanings would help me decode the man credited with everything from inventing the a la carte menu to developing the "brigade" system that's still employed in kitchens today. After having a few laughs at my plight, he did me a true solid, identifying a number of dishes he felt I could accomplish with my very limited skill set.
My first would be crème choisy, cream of lettuce soup, followed by oeufs a la bordelaise, mushroom-stuffed fried tomato halves topped with fried eggs. (To anyone who thinks cavalierly tossing a fried egg on stuff is a contemporary diversion, you are wrong.) For my main, I settled on filet de sole aux moules, wine-poached fish served with mussels and sauce normande. And for dessert: peach Melba, which might be the one recipe Auggie's associated with more than anything else.
I decided to knock out the soup Friday for Saturday's six-person dinner, which was precisely why Spectral Auggie and I were haunting Pathmark on the late-night tip. After maxing out my horrid math skills converting metric to imperial (the book does it for you but it's less helpful than you might think) and massaging measurements to match my intended output, I got started on the base — nine (!) cups of béchamel, the "mother sauce" that basically consists of a thickening roux (flour and a shitload of clarified butter) mixed with milk and more butter. Auggie's instructions suggested the sauce would take two hours, but a footnote clued me into a shortcut that whittled it down to just 20 minutes. Down went the dairy bomb into a pot of butter-stewed lettuce and milk; after passing it through a sieve (Auggie loves sieves), it had the consistency of fluffy glue. It tasted good. I put it in the fridge. I was feeling a little cocky.
I am an idiot.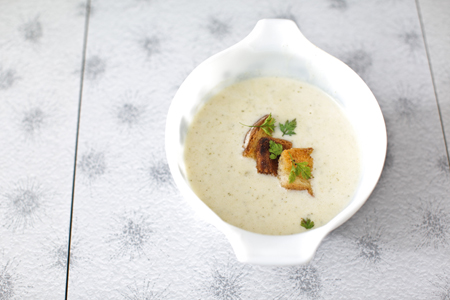 Neal Santos
Thinking I could pull off both the egg and dessert courses with relative ease later in the evening (did I mention I am an idiot?), I decided to concentrate on my main the next morning. Ippolito's was the spot for local fluke (subbing for the called-for sole), mussels and a couple fish carcasses the mongers were going to toss out anyway — needed those for the stock that'd serve as the base for the entrée's ultra-rich sauce normande, flavored with mussel and mushroom liquors, egg yolks and more butter and heavy cream.
Here's where Auggie really stuck it to me. That sauce ended up taking more time than anything else — reason being that the recipe, like many of Le Guide's offerings, requires you to prepare multiple disparate elements before you can even start on what you actually want to cook. It's like a warped culinary March Madness bracket — the sauce called for both fish stock and fish velouté (that's stock plus roux), so I had to make the stock, then make a roux, then combine the stock with the roux to make the velouté before combining the stock with the velouté to make the sauce. Owww head. I pictured the Spectre of Auggie laughing maniacally from his hiding place behind the basmati rice in my dry storage.
He didn't set it up this way to be a dick, though. Le Guide was written for professional kitchen reference, so he assumes the reader will have fish stock on hand, or at least a line cook ready to make it. However laborious it was — no word from Auggie on a good way to draw liquor out of mushrooms, so I ended up using a muddler and a sieve and bleeding scraps into a measuring cup — my sandy-colored sauce normande tasted tremendous.
I wish I could say the same for the crème choisy. Auggie's recipe insisted I dump in additional heavy cream right before serving, so I did, even though I thought the soup tasted fine. Bad mistake — everyone's chervil- and crouton-garnished bowls came back half-eaten at most. Way too heavy. Why did I not employ my "personal views," goddammit? "Le suck," the Spectre of Auggie intoned as he floated around my kitchen. I threatened him with a Dustbuster and he retreated to the coat closet.
The next course, the egg-topped tomatoes, was better, though I rushed the frying, rendering the tomato halves a strange consistency. The French-fried eggs — that means you slide them, preseasoned, into oil, folding the white into the yolk like you're enveloping a thank-you card — came out quite well and I think I'll make fried eggs this way from here on out.
That sauce normande was definitely great — earthy and fishy and the right consistency and everything — but I screwed up the fluke and mussels it went over. The thin filets poached in their mussel liquor/white wine mixture finished in about half the time Auggie estimated, reducing a few to flaky, if tasty, crumbles. (I guess I didn't properly boil without actually boiling.) The mussels sat for too long as I poached and went cold. All my friends and my incredibly supportive girlfriend were sweet about it, but I felt like a total douche serving such a mediocre main.
That's why I would like to thank Auggie for inventing my sweet saving grace: peach Melba. The chef developed this recipe — nothing more than peaches poached in simple syrup and vanilla, plus raspberry purée and vanilla ice cream — for the opera singer Nellie Melba in the late 1800s. I did not arrange the fruit "in a timbale," as Auggie instructed; I just dumped everything in crappy bowls I bought at a Vietnamese supermarket. Everyone loved it and I did too, as it is really hard to screw up.
The ups and downs of this meal really drove home that Le Guide should not be used as a "let's have some people over for dinner tomorrow" cookbook. It should be treated as what it is — a historical document, but one that has relevance to anyone with patience and a deep interest in the precepts of cooking. I may never want cream of lettuce soup again, but that quick-and-easy fish stock was the best I ever made, and I'll be immediately referencing the book next time I want to make any sort of sauce.
The Spectre of Auggie did not offer to help with the dishes.
(ten.repapytic@rozal.werd) (@drewlazor)