Carolyn Huckabay  |  2007-2011  |  Arts Editor, Copy Chief   
A lot of personal milestones occurred during my five-year tenure at City Paper. I won my first big writing award. I met my husband. I got an edgy haircut. And when I decided to leave the paper in 2011, I heard the words every CP alum would come to dread, because secretly we knew they were true: "You'll never work anywhere as good as this place." And damn it, when Pat Rapa's right, he's right. It's not just about the cool factor, though we'd be lying if we said we didn't commit our share of alt-weekly humblebrags. ("Oh, this old thing? That's just my all-access Fringe pass.") It's not just about the staff, though sharing space with such brilliant, hilarious, demented, beautiful minds was never anything short of an honor. The crux of it was: No other place could ever afford us quite the same freedom to tell the kind of stories we knew needed to be told — the kind that weren't being told anywhere else. The one I'm most grateful I got to tell was about T. Desiree Hines, a transgender artist whose personal pain never trumped her drive to do good in the world. She died a couple of years ago, but I'll never forget her and I hope her story resonated with our readers, too. At the end of the day, we were onto something really good and we knew it, and we seized it, and we owned it, and I'm proud of that.
Peter Burwasser  |  1981-2015   |   Classical Music Critic, Wine Critic, Columnist
City Paper arose out of the delightful chaos that was the old student-run WXPN radio station. I was there. WXPN exposed this classical music nerd to John Coltrane, Morton Feldman, bluegrass and early punk, but also social movements such as feminism and gay rights. My education continued at City Paper; fun new indie music from editors Neil Gladstone and Margit Detweiler, guided CD picks from Pat Rapa's famous mountain of comps, not to mention an increasing immersion into the realm of our superb local composers and the intrepid musicians who bring their work to life. I also won't forget the wine tastings with Maxine Keyser, the restaurant review meals with Trey Popp and the farmers market surveys with Jenn Carbin. As with WXPN, being a part of City Paper, with its beautiful array of joyous, energetic and imaginative voices, has been exhilarating and deeply fulfilling. It is beyond sad that both institutions can no longer spread the word, having succumbed to the dull, vanilla onslaught of corporate culture.
David Fox |  1999-2015  |  Theater Critic
I had 16 extraordinary years writing about theater (and a few related topics) for City Paper. During that time, I watched Philadelphia's arts scene grow at a rate I couldn't have imagined. Several of the fledgling companies I saw at the beginning are now significant presences on a national scale. I've had the pleasure of watching actors who started as juveniles become leading women and men — all while they remained in our city as treasured members of the theater community. I'd lived in Philly for nearly a decade before I started at City Paper, but it's no exaggeration to say I really started to know the city through my writing — and the support of an amazing group of colleagues. To all of them — and to City Paper readers — my deepest thanks.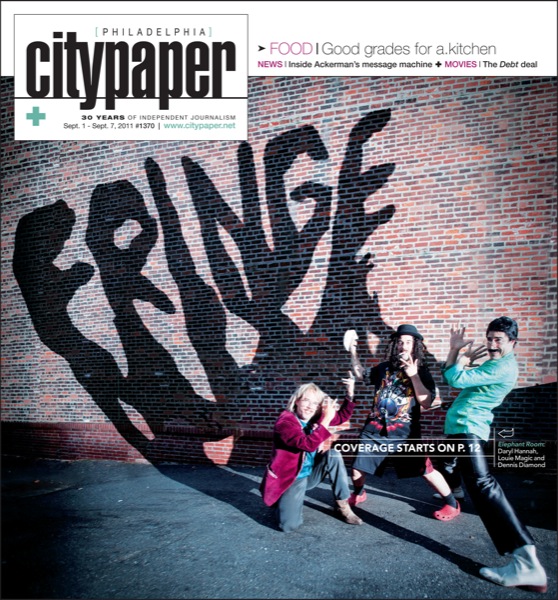 Robin Rice  |  1983-2013  |  Art Critic, Columnist
The first published piece I ever wrote in my life was for City Paper: 25 words on the painter Frank Galuska at a Center City gallery. Over time I wrangled more assignments. The arc of words expanded to around 1,200 a week for a column, augmented by then-editor David Warner's "Can you do another short piece on … ?" Years later when assignments etiolated to versions of the very first one, it was time to move on. But I prefer to recall the palmy Anne d'Harnoncourt days when press events at the Philadelphia Museum of Art were "extraordinary," as d'Harnoncourt loved to say. (Once certain rogue writers counted the number of times she and Joe Rishel said it, and struggled to contain their laughter.) The beautifully composed luncheons had menus constructed around exhibition themes: John Cage's favorite mushrooms, wacky Spanish dishes for Dali. On one memorable occasion I was seated next to Vincent van Gogh's great-nephew, also an artist, who runs the gift shop in the Van Gogh Museum. He looked then exactly like his famously selfied relative and good-humoredly drilled me on the utterly impossible pronunciation of the family name. I still have his business card.
Mary Armstrong  | 1981-2015  |  Folk/Roots Music Critic
Joy, joy, joy. It's all about joy. In the pain of writing a farewell piece for City Paper, my constant outlet since its first issue almost 34 years ago, somehow that was left out of my first draft. How could I forget that part? Roots music reaches right to the heart. I saw it at the Annenberg last weekend, in Toshi Reagon's retelling of Octavia Butler's The Parable of the Sower, setting that apocalyptic novel to song for many voices and inspiring us to resist racial hatred. She says she'll still be calling out things that need correction if she's still around in 2024. "That's what folksingers do!" And they urge the audience to lift their voices, the very breath of survival, in songs of hope, solidarity and resistance, as did we. Where there is roots music, you will find me promoting it and singing along.
Brian Howard  | 1995-2011  |  Music Editor, Web Editor, Senior Editor, Editor-in-Chief
There was always so much in that deceptively simple name — City Paper. My predecessor as editor-in-chief, Duane Swierczynski, used to say CP was one of your rewards for living in the city, your bible. Yes, alt-weeklies had well-earned reputations for being on the bleeding edge of movements in music, arts, gay rights, sexual mores and the like — which were often part-and-parcel of living, yep, in the city. But I think alts were also part of a bigger movement in urbanism, toward a more general interest in cities as not just centers of arts and culture but the very engines of our society, toward the idea that cities, and the people who lived there, mattered. When I graduated from La Salle in 1995, I gravitated toward City Paper because it was where I found out about the left-of-the-dial bands my friends and I cared about, and I gravitated toward the city because those bands didn't play club gigs in the small town I grew up in. As I got older, living in the city became less about club gigs and more about an energy — a mix of cultures and viewpoints striving both for personal and familial success, but also striving to make our shared home — Philadelphia — a better place. And thus, in a way, City Paper was not just an alt-weekly, but a community paper of sorts for people who gave a damn about this outpost between two rivers that's had its ups and downs but that has been moving, unmistakably, in the right direction.
Neil Gladstone  | 1992-1999  | Music Editor
My SixPick of top City Paper Moments (in no order): 1. Telling Eugene Levy there's a local band named Mel's Rockpile (after an SCTV sketch he created) and showing him their single. He asks me if he can have it. 2. Writing about artists that deserved bigger recognition like King Britt, Latimer, O Mighty Isis, Matt Pond PA, Overlord, Dice Raw and more. 3. Co-hosting a City Paper fashion show with Margit Detweiler under the pseudonym "Norm Leatherette." 4. Asking Teddy Pendergrass about Harold Melvin and having him say, "We're not going to talk about that." 5. Being told by my editor, Howard Altman, to check into a classified ad about a stolen grand piano. After figuring out how to think like a crook, I call several potential buyers, including the biggest piano store in town. The guy on the phone laughs at me. Two hours later, he calls and admits they have the piano. 6. Going to Silk City because The Roots want to recreate the G. Love & Special Sauce "sitting at the diner counter" promo shot for the City Paper cover and, since this is Philly, G. Love happens to be eating at Silk City and joins the shoot.
Lori Hill  |  1995-2006  |  Arts Editor, Copy Editor, Assistant Editor
My City Paper life came long before hashtags and clicks and search engine optimization. It started with slicing open envelopes, sorting press releases into piles and spying on people whose names I had only seen in bold type. I'm pretty sure my first byline was a shared one about the Rosenbach Museum's Bloomsday celebration. Years later, as A&E editor, I was asked to participate in that daylong reading of Ulysses on Delancey Place. Looking back, there were countless full-circle moments like that. I had the privilege of interviewing some of the city's most influential people in the arts scene, as well as artists and musicians quietly making the city a more beautiful place — Shelley Spector, the Dufala brothers, New Paradise Laboratories, The Low Road, a building full of creators in Port Richmond. But the smaller moments stay with me, too: the nerdy joy of poring over the fat Fringe guide; putting Book Quarterlies and Music Issues to bed, delirious with exhaustion and pride; listening to pitches (live! on a desk phone!); getting summoned via IM to Pat Rapa's office for the Bell Curve meeting, shoving CDs off his couch and cracking jokes for an hour (I was deemed "the moral compass" for this endeavor). I grew up at City Paper. It didn't feel like a job; it felt like life. Thank you to all the people who lived it with me.
John Vettese  |  2000-2012  |  Music Writer
More than anything else, City Paper was my education. It made me a better writer in a mechanical sense, sure, but it also changed my perspective on what I wrote about — it showed me community in my city. I came to music editor Brian Howard in winter of 2000 as a 22-year-old intern who was stoked on Radiohead and Belle and Sebastian like a lot of people my age. Working under him, then under Pat Rapa, I discovered a whole world of music right here in Philadelphia. I saw that City Paper editors and contributors valued local culture as much as, if not more than, whatever the heck was getting talked up in Magnet and the then-nascent Pitchfork. The Music Issue fast became my favorite time(s) of year. It was when I'd tell Pat, "Here are some really awesome Philly artists I've been digging," and he'd let me profile them. I talked to Joe Jack Talcum of The Dead Milkmen on the benches in 30th Street Station; I drank Citywides at Tritone with rappers Curly Castro and Zilla Rocca; I interviewed Hop Along on the top floor of a West Philly row home. I learned more about Philadelphia than I ever imagined possible. I'm still learning.
Nate Chinen  | 1996-2003  |  Jazz Critic, Columnist
Let's put it plainly: Without City Paper, I might not be a music critic. When I first walked into the offices on 13th Street almost 20 years ago, it wasn't with that goal in mind. But a few months into my stint as an unpaid listings intern, intoxicated by the rogue intensity of the place, I started writing about jazz. Nobody discouraged this, despite the fact that I was a poetry major, with no prior experience in journalism. So I kept at it, fumbling toward competence. One thing I learned right away was that the coverage had practical implications for the musicians on the scene. I'd hear their feedback, out in the clubs; sometimes I'd be pressed to clarify an opinion, or challenged on a particular point. That's pretty damn good training for a young critic still forming a voice. So too was City Paper's thoughtful but unfussy editorial guidance. Like the jam sessions I used to attend at Ortlieb's, City Paper was about as true a meritocracy as I've encountered in my working life. For that same reason, it was also a proving ground: You were as good as your copy, which could always be better.
Mark Cofta  | 2006-2015  |  Theater Critic
Around the time when I started writing theater reviews for City Paper, a bunch of now-established companies were just beginning. Azuka, Curio, EgoPo, Flashpoint, Horizon, Idiopathic Ridiculopathy Consortium, Inis Nua, Luna, Mauckingbird, Shakespeare in Clark Park, Simpatico, Theatre Exile and 11th Hour are all about a decade old, despite the recession and slow recovery, along with newer companies like Quintessence Theatre Group, the Philadelphia Artists' Collective and The Bearded Ladies. Did committed coverage from City Paper's David Anthony Fox and me, encouraged by our dedicated arts editors despite cutbacks, in some small way boost this unlikely growth spurt? Our reviews weren't always raves, but as a successful PR person once told me, "The only bad coverage is no coverage." I hope Philly theaters are better off for our reviews, features and previews. I know I was enriched by seeing their work, and thrilled to share it with CP readers.
Debra Auspitz Galler  |  1999-2004  |  Managing Editor, Arts Editor, Copy Editor
"Who is this Debra Auspitz?" So began that first nasty letter to the editor, in reference to my first cover story. I was devastated, even though Howard Altman congratulated me on finally pissing someone off. In retrospect, the letter writer had a point — I was young and inexperienced in a town with an incredibly rich arts history. That angry local artist reminded me that covering the arts in Philadelphia is both a privilege and a challenge, one I never took lightly. Editor-in-Chief David Warner publicly defended my work and privately noted areas where I could improve — that mixture of fierce devotion and commitment to excellence characterized my experience with the CP staff. Something magical existed in those Second Street offices — our little corner of editorial space was full of free CDs, befuddled interns, side-splitting laughter (mostly caused by the funniest person I know, Patrick Rapa), some tears and a lot of love, both for each other and for the city we covered. I started as one of those interns, trying to soak up as much knowledge as I could from greats like Warner, Rapa, Frank Lewis, Altman, Lori Hill, Sam Adams, Brian Howard, Daryl Gale and so many more. Later, as arts editor and then managing editor for A&E, I tried to maintain the quality of the paper I was now lucky enough to help shape. In the end, that snarky opening question meant more than the letter writer ever intended. Who is this Debra Auspitz? Someone who wouldn't be the writer, teacher, friend or person she is today without the education she received at CP.
Josh Middleton  |  2010-2012  |  Digital Editor, Columnist
Growing up gay in rural Kentucky, I caught all the usual slurs — "fag" (boring!), "homo" (heard it!) — but there was one I found particularly creative: "queer bait." That one always stuck with me, mostly because it took a second to figure out. Flash-forward years later, I'm working at City Paper and they give me a column that I called (you guessed it) Queer Bait, where I could write all about being a big ol' homo in Philly. How's that for the ultimate eff-you? Thanks, CP, for letting me wave my rainbow flag in your pages — and not firing me when I hung that Whitney Houston poster in my office.
Mikala Jamison  |  2014-2015  |  Arts Editor
I almost, almost started this "goodbye to CP" note with something lame as hell, like "words cannot describe my experience." Then I remembered the packet of documents passed down to me by Emily Guendelsberger when I became arts editor at CP. One was meant for interns — "Things for Young Writers to Avoid." On the list: "Don't say something was 'indescribable' or that 'there are no words.' You're a writer. Your job is to find the fucking words.'" That's how CP and its talented, savvy, scrappy people have taught me: indelicately but powerfully. And, OK, I don't have the words (literally, I only get 200 here) to describe every joyful moment — everyday workplace hilarity up to what I consider personal triumphs — at CP. But there, I learned how to be a writer, and I know I'm not alone in that. City Paper helped me find the words.
Maura Johnston  |  2001-2015  |  Music Writer
Usually I try to not get explicitly sentimental in my writing, but last week's news about City Paper got me right in the gut. I moved to Philadelphia in the spring of 2000 for reasons that spectacularly imploded immediately upon my arrival, which left me a bit adrift. Falling in with City Paper was a matter of luck in a slew of ways — I not only got to hone my music-writing chops and go deep on topics like the future of the shopping mall, I also met some of the best people I'll ever know, and I'll always note with pride that I can call myself a "City Paper person." That's shorthand for tenacious, creative and devoted to the alt-weekly cause, even (and especially) during turbulent times.
K. Ross Hoffman  |  2009-2015  |  Music Writer
So many concerts. Endless promo-copy CDs. Innumerable picks, each about 100 words in length. The time I, as an eager intern, pitched a piece on '90s-holdout indie weirdos The Music Tapes, thereby, I guess, convincing Pat and Brian that I was down. And, almost six years later — a fitting, if unwitting, final hurrah — my breathless flurry of theater-going (37 shows!) and blog coverage during this year's Fringe Festival. Also: the first time I met Emily Guendelsberger, at a party, and she said "Oh, you're K. Ross Hoffman. Stop stringing adjectives together!" Well, OK. No adjectives anymore. If nothing else, covering music for CP has razor-honed my ability to cram maximal thought-content into periodically diminishing word counts, style bedamned. Hopefully that densely packed prose — written while cloistered away at home and even, for several years, remotely from Boston (pining for Philly all the while) — has convinced you to get out there and see some great shows. Maybe it's helped introduce some meaningful music into your life. Anyhow; thank you, so much, for letting me share some of my loves with you. We'll see what's next. For now, you can find me writing about music, mostly, at mincetapes.blogspot.com, and catch me DJing (as Ross of Love) around town. Thanks for listening.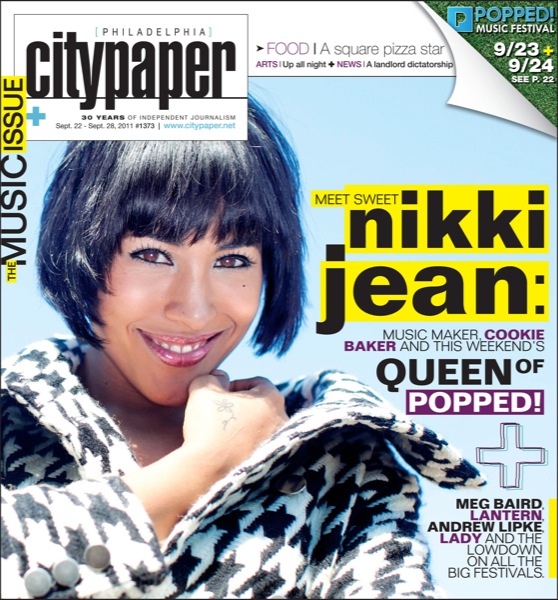 Andrew Milner  |  1995-2015  |  Music and Books Writer
I remember: submitting my initial City Paper contributions on 3 1/2-inch floppy discs. Making thousands of frantic calls to publishers and record labels for review copies of books and albums (as well as the dozens of prompt replies). Writing an unpublished review of a jazz flute album by … Dr. Kevorkian. (Here's its closing line: "Don't give up the day job, Jack.") The cover 48 hours after 9/11 — "NOTHING WILL EVER BE THE SAME" — and the mock-up cover with its original, unprintable headline. The arguments, the slammed doors, the last-minute changes, the happy hours and the great, irreplaceable journalism from so many. And I remember stopping into the office one lunchtime where I was abruptly asked to help think of a caption for a Sam Adams piece on Duck Dodgers without using "Daffy, "Duck," "Dodgers" or "outer space." Several of us offered suggestions, each of which Sam quickly shot down. After 15 minutes I said, "I didn't spend this much time coming up with a subject for my senior thesis in college." "Which explains," someone replied, "how you wound up working here."
Nicole Pensiero  | 1988-2006  |  Music Writer
It was 1988 when, armed with a few random writing clips, I met with Bruce Schimmel and David Warner in City Paper's small Center City office to sell them on the idea of letting the then-30-year-old me write about music. Much to my delighted surprise, they said yes — a major breakthrough in my dogged attempts to become a bona fide "music critic." I paid them back with stories about all types of music — pop, country, worldbeat — by way of both luxuriously long features and those tight-as-a-drum, 50-word Sound Advice picks. I worked with terrific, open-minded editors — Margit Detweiler, Brian Howard and Pat Rapa — and still consider the work I did there some of the best of my career. As a writer, I was challenged and inspired by the written words that made their way into City Paper's pages each week. As a reader, I was continually enlightened. I'm grateful still for the opportunity to have been a part of it at all. Such a loss. Philly just won't seem the same without City Paper.
Frank Blank Moriarty  |  1984-1994  |  Rock Critic, Columnist
I recently had to write a bio for my loudfast.net website, and realized my "real" writing started with record reviews for my high school newspaper. Sharing excitement about great rock music was all I wanted to do. When Michael McGettigan approached me about doing just that for City Paper, how could I say no? I wanted my column to be about bands from anywhere in the world that were unlikely to get exposure elsewhere, to not waste a lot of space with negative reviews and also to put a spotlight on bands that mainstream media was ignoring during a vibrant era. I just never imagined I'd get to do that for 10 years. For most of those years, when I would finally get the column handwritten or typed out on my electric typewriter (yeah, no email or FTP in the prehistoric era), it was time to hike down to the then-dubious location of City Paper off 13th Street (trust me; the currently groovy vibe of 13th Street today was inconceivable in days of yore). Climb the steps, open the door and the full-on energy of City Paper nearing deadline was charging the air. Sad that electricity is, as of this issue, a current of the past.
Vance Lehmkuhl   | 1990-2003  |  Cartoonist, Features Writer
Philadelphia without City Paper is a bizarro-world head-scratcher. Dunno where I would be today without City Paper publishing movie, CD and book reviews back when I was just learning how to write. Would I have wound up as a Daily News columnist covering Philadelphia's crucial vegan scene? Wherever I'd be, I can only say thanks for the ride — for the chance to chat with idols like Laurie Anderson, Todd Rundgren and Gloria Steinem; or to point readers to cultural milestones like Pixar's Toy Story and Beck's Odelay; or to explain how Matt Groening should spend more time on Life in Hell because The Simpsons was clearly too good to last more than a couple seasons. So many of the great Philly people I've come to know were through CP, folks like Gretjen and Eliot and Todd and Gina and all of the Dumpster Divers, and that's not to mention the CP staff, of whom I only have room for one — the guy who discerned something in the klutzy story I pitched him, took a chance, worked with me and put my first story on the cover: Bruce Schimmel.
Juliet Fletcher  | 2000-2015  |  Editor, Contributor
Words carry. They carry further than you thought. Not my consideration one Monday 15 years ago, when I urged readers come watch the knitted-hatted indie-folk-masher Damon Gough. That Monday, I had not yet extensively, publicly, kissed Damon Gough. "When he plays live, he reputedly executes these sleights of hand amid a dazzling display of Jack Daniels-inspired spontaneity," I wrote in these pages. "He'll win you over." Words carry. Sneak into people's good graces with words — let 'em adopt them, pet them, pocket them — and wait to see where they end up. At The Upstage, hands wrapped around vodka, I watched the show begin and wasn't taking notes. "What's this one?" Friends who knew Gough only for his NME antics, his Mercury Prize, his hat — they made me name-check each song. I scanned the stage for a set list, saw a typed scrap. A newsprint scrap with a headline, a byline. Mine. "He'll win you over." He'll tape your words to his stage. My objectivity blacks out drunk. My bravado keeps drinking. "Damon." I'm at the side of the stage, as he quits his last note. I point. "That. That scrap. I wrote that." Beard. Tastes weird. My male friends look — alarmed. He kisses my friends.
Michael Pelusi  | 1997-2015  |  Editor, Contributor
I have been doing stuff for City Paper for almost two decades. Honestly, at this point, most of it is a blur. One minute I am an intern, sequestered in a dank corner at 13th and Chancellor, looking for the most up-to-date Combustible Edison promo photo. A few hours later, I am at Second and Chestnut, and my title is editorial/web assistant. Wielding HTML like a scepter, I command the editorial staff to offer me online-only content, lest they witness my horrible wrath. Together, we all save the newspaper industry. (Too soon?) When I wake up the next morning, I am a freelance writer in a two-room apartment. I patiently email a publicity person: "Oh actually, could you overnight that seven-CD Richard Thompson boxed set?" And then I blink, and I'm writing this very valedictory piece. So I think of my City Paper experience as an amazing 18 years, or a really amazing 12 hours.
Margit Detweiler  | 1989-1999  |  Administrative Assistant, Listings Editor, Music + Style Editor, Managing Editor
I started my CP career at the 13th Street office in late 1989 in a three-way job of mail room/ proofreading/taking classified ads over the phone. It was my first job. I left some hard-won, tear-and-ink-blotched years later as managing editor. Thinking back on it, I can still smell the rubber cement from pasting up the paper. At some point, we all pitched in on everything. If a CP box fell over, we'd prop it back up. It was our paper.
That D.I.Y. ethic spoiled me and prepared me for every other job since; City Paper let me learn just about every aspect of the publishing business.
I did some of my best writing there, and worst, and most random: the Mütter Museum, a polygamist family in State College, the lone female Korean cop working the beat in Rittenhouse Square, Tom Waits calling me from his landline, a music column called Gyrate. I learned how to "produce" a student-designer-focused Style Wars and a short-lived music and style magazine called earShot. I spent 10 wonderful years working with a bunch of impossibly cool weirdos. Unfortunately, Facebook means I'm still in touch with every last one of them. Bye CP, we loved you.
Ryan Godfrey  | 1999-2002  |  Webmaster, Movie Critic
In those brave, wild days of the early commercial Internet, websites had webmasters — coon-skinned data-rasslers, born with a Perl script in one hand and a dancing baby GIF in th'other — and I was lucky to become City Paper's. The site was four years old when I joined — older than philly.com or nytimes.com — and with 30,000-plus articles, it was already one of the largest sites on the web. We never quite figured out how to make much money from all those lovingly shoveled e-content hillocks, but we put our faith in the long tail and just kept plowing pixels.
If you hang around free newspapers long enough and drop hints, they eventually let you write, and Sam Adams kindly let me review a movie or so a week. The films I saw were generally obscurish and not great, but reviewing in the Movie Shorts shadows emboldened me to probably indecent levels of hyphenate coinage, many of which somehow made it into print: apoca-Gothic, agorophobic gore-ophiles, auto-Lysistrata, care-bottom (a state I had hit), curio-doping, days-of-thunderkind, diet-smut, itinerant healer-king (E.T.), well-wigged animatron (Burt Reynolds). Yeah, indulgent, silly, but seeing words I'd built in weekly ink felt like freedom.
M.J. Fine |  1999-2013  |  Music Critic, Columnist
I was a fan first. As a high schooler exiled to the suburbs, then as a college student with a full-time job, I lived vicariously through City Paper, reading about all the bands I wanted to check out but was too young, too busy or too broke to see.
But somehow as a print journalism major with a focus on music, the idea of writing for City Paper never crossed my mind. Then I learned I was one credit shy of graduating, and my then-BFF Rosemary Darigo, who'd been a listings intern, hooked me up, for which I am eternally grateful. After three months of churning out quips about hikes and museum lectures, I got to write about music and books — and eventually I got paid for it.
I loved getting local artists to open up about their work. I loved cramming three or four Fringe shows into a night and pounding out tiny reviews before bed. I loved the Choice Awards and the holiday soirees, which provided excuses to change out of my T-shirt and jeans and into something fabulous.
I loved my column, Reconsider Me; two and a half years after giving it up, I still get a buzz thinking about how I might revisit seminal works by Janet Jackson and The Innocence Mission. I loved chatting with Sinéad O'Connor and Tori Amos about theology, even though the long-distance calls cost more than I got paid for the stories. And I loved stopping by the office to browse the shelves and swap recommendations with Pat Rapa. Still a fan.
Susan Hagen  |  2000-2006  |  Arts Writer
Though the pay was lousy (can I say that?), writing art reviews for the City Paper was one of the best jobs of my life. It got me out looking at shows and thinking about art, and expanded my world and my thinking as an artist in many, many ways. I never knew where a visit to a show would take me. There were shockingly fun moments like my visit to curator John Caperton's show "Cathartic Disgust Gestalt" at the Project Room, as well as the weeks of research I put into the piece titled "Raising the Bar," a real-life adventure into the world of alternative art exhibition spaces housed in Philadelphia drinking establishments. I also thoroughly enjoyed the twists and turns of my creative collaboration with CP colleague Robin Rice on an exquisite-corpse review of the Salvador Dali show at the PMA. Other memories are bittersweet, such as the long delightful afternoon I spent talking and drinking tea with Leon Golub and Nancy Spero in their New York studio. Thank you to all the artists and curators who helped me, to my colleagues at CP, and — of course — to our loyal readers.
Marc Snitzer  |  2013-2015  |  Contributing Writer
I hold City Paper in the same regard as my old summer camp. By that, I mean that the paper served as a place for me to build friendships, learn about the world and generally figure myself out. It made me care about things, and the city that I live in. As an editorial intern, I learned more at City Paper than from my college classes at the time. As a contributing arts writer, I was encouraged to write about what I felt passion for and tell the (sometimes bizarre) stories that fascinated me. I think it's that human quality that separates City Paper from the rest of Philadelphia's media; it has never compromised, and has never been afraid to be anything but itself. For that, I will always be grateful.
Monica Weymouth  |  2007-2009  |  Associate Editor
I showed up on City Paper's doorstep right out of college with zero experience, a portfolio full of TGI Friday's cocktails and a sneaky suspicion that I wouldn't last five minutes in law school. They let me stay for some reason, and I learned how to be a writer and, in many ways, how to be a Philadelphian with the help of an amazingly kind and annoyingly talented group of people. City Paper believed in me when I said I could pull something off, then supported me when I clearly could not. No one was coddled, but no one kicked you while you were down, either. I laughed every single day in that office, and I cried only once after my boss announced his resignation. Assuming this was how the real world worked, I left for another job after two years. What can I say — I was a fucking idiot at 24.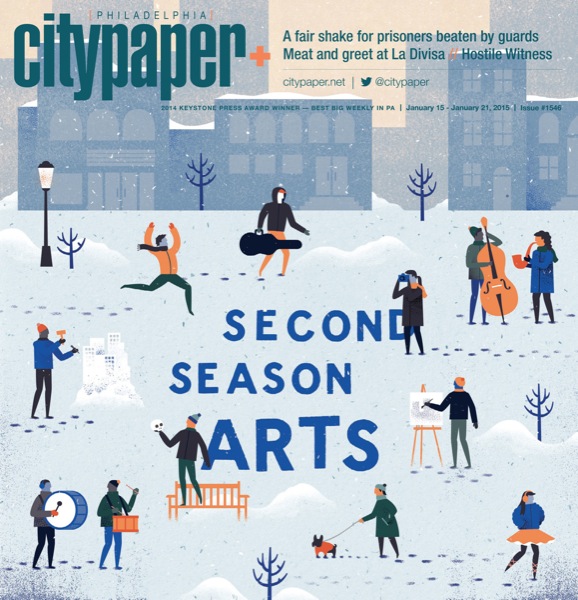 Holly Otterbein  |  2009-2011  |  Staff Writer, Listings Editor
No publication in Philadelphia gave its writers as much freedom as City Paper did. When I worked at the alt-weekly, there were no "beats," no dress codes and no rules barring my colleagues from raising canaries or growing cheese in their offices. I wrote about an island on the Delaware River owned by Hugo Chávez, a vendor of plastic shopping bags in the Italian Market and anti-abortion activists who were funded by taxpayer dollars. All of that was A-OK by my editors, as long as I abided by the ethics of alt-weeklies: Write beautifully, investigate the shit out of shit, and punch upward. Now that City Paper is gone, there will be one less publication in town dedicated to investigative journalism, to criticizing other media and to showing people how special this city is. Now more than ever, we desperately need that.
Julie Zeglen  |  2013-2015  |  Freelance Writer
In the fall of 2013 I was a fresh college grad with a shitty restaurant job and a City Paper internship. My first published piece was a pick about a Gayborhood walking tour. On the Tuesday before that issue was set to print, I was fact-checking in the Old City conference room where Pat Rapa was proofing the issue, and he told me he liked the pick. I was elated. When the paper came out on Thursday, I tore out the pick and pinned it to the bulletin board at my job. My co-workers were pretty impressed that I was a published writer, and I vowed to take an actual shot at making this journalism thing work. Two years after that internship, I somehow find myself making a living off of words. No one else lets me use the word "shitty" in my writing. Pat, if you cut that out, I'll be really mad at you and this piece won't make any sense. But seriously, thanks for the opportunity.
Sameer Rao  |  2013-2015  |  Music and Arts Writer
I used to be an angry, shiftless kid with shitty facial hair and a thousand ideas about art and society that clashed aimlessly in my head, ennui suffocating the only things that felt like cogent thoughts that had no real permanent home of any worth. That changed the moment I started writing for City Paper. Formative years spent growing under Emily, Pat, Mikala, Theresa, and Lil turned into productive ongoing work, spiraled into lesser-paying work at more-famous publications and landed in a national reporting job that makes me happy. City Paper changed my life for the better. So I won't spend much time thinking about whether the best paper in town got grassed by sales-obsessed neoliberal morons. Instead, I'll remember interviews with creative luminaries over drinks and coffees, shitty iPhone concert pics that turned into less-shitty DSLR-shot memories and mentorships that evolved into friendships to last a lifetime. Thank you for everything, City Paper. I'll spend my life repaying the debt I owe you.
Rodney Anonymous  |  2009-2013  |  Columnist
While I'll always be thankful to the City Paper for giving me my monthly "Aid or Invade" column — perhaps the most enjoyable writing gig I've ever had — as well as the opportunity to see my writing sharing space with some of Philly's best journalists, the truth is that I stopped reading the City Paper the day I saw a banner slapped across the front which read "And Lots of Pics of Sleater-Kinney!" It was like seeing an old friend from one's squat-house days, who's now selling insurance. The last issue might be on Oct. 8, but the free weekly that we all loved died years ago. If the CP ever returns to life, I hope it comes back as what it once was — a feisty little publication written by, and aimed at, weirdos. So let us grieve for what it was, because when it was good, it was great.
[Editor's Note: That Sleater-Kinney thing never happened. Rodney's an asshole. Go see his dumb fucking legendary band at the Troc on Oct. 30.]
Dotun Akintoye  |  2013-2015  |  Writer
My City Paper story has much in common with so many of those who wrote in these pages: If Emily Guendelsberger hadn't liked and responded to my (past due) internship application, and then treated her interns like junior colleagues instead of helpless neophytes, and if Patrick Rapa hadn't decided basically sight unseen to trust me with a cover story a few weeks into that internship, and if they and other editors hadn't championed every sentence I've written here since, I'm not sure what I'd be doing. Truly. So (and this sentiment will be common too) this loss is both personal and political, as we find that this paper and its democratic imperative — its insistence on new voices and neglected stories — will no longer be here, will not be anywhere, and soon. We have no choice; we must say goodbye, but not to each other, colleagues, mentors, friends and readers.
Natalie Hope McDonald  |  2000-2015  |  Writer
There was a time when news moved slower, when we would wait to peel open the pages of the paper to maybe see our own story, something a colleague wrote, or how readers were reacting to last week's issue. It was a great time to be part of the alt-weekly family, and an experience that would set a career precedent for years to come — always finding the right angle or the untold story. If something good can accompany change that can, at best, be progressive and, at worst, become painfully nostalgic, it's that we as writers continue looking for that story, and to give voice to the often voiceless people who make our city what it is. That won't stop simply because an era ends or the paper ceases to be. It will evolve to meet readers where they are. Because people always love a good story.